Home
Do something good for yourself and come to Zumba® Fitness classes in Springville, Utah! Shannon Robinson is your licensed Zumba® Fitness instructor for each hour-long class. She leads you through an easy-to-follow 10-minute warmup, including work on your legs and core. Then we move our way though 45 minutes of fun cardio to Latin and international rhythms, like merengue, cumbia, salsa, reggaeton, bollywood, and of course our favorite songs from the radio! We end with a cool-down and a good stretch. And you leave feeling so much better than when you came! You won't believe how fast the hour passes.
We meet Mondays and Wednesdays at 8:00 pm.
NOTICE: Starting April 9th our class will meet at Cherry Creek Elementary (484 S 200 E, Springville, UT 84663) in the North Gym. It's the building just south of the Springville Museum of Art. You can park in the SMA parking lot and enter through the single brown door near the metal sculpture. Bring your own water bottle. We will meet here until the new Clyde Recreation Center opens.
Shannon's classes are fun, sweaty, and give you a good workout. Come if you've never tried Zumba®, and come if you have! We have all ages and all levels of fitness, and we have a lot of fun!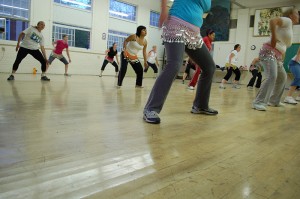 (Photo courtesy springvilleblog.blogspot.com)
Hope to see you in class soon!